Breckenridge Alpine Slides and Coasters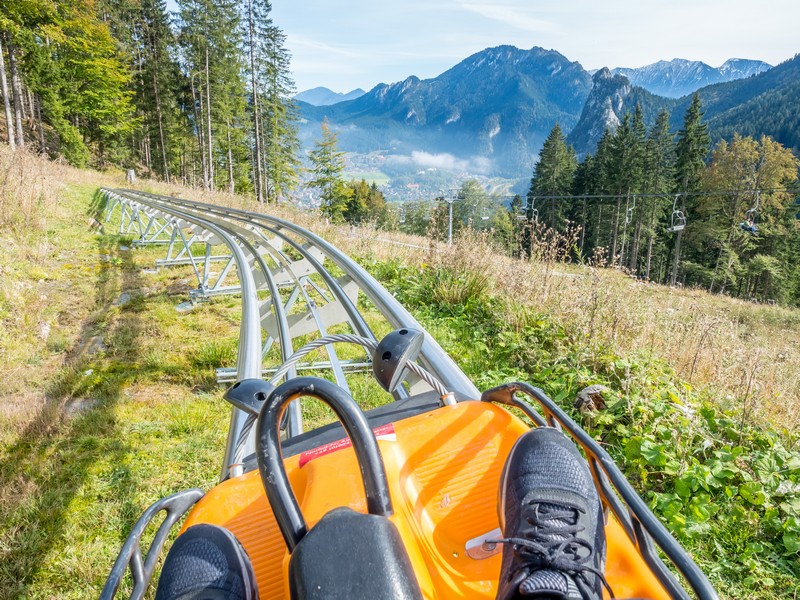 CLOSED FOR SUMMER 2020 OPERATIONS.
SEE YOU FOR WINTER OPERATIONS 11.13.20

Breckenridge Resort will open July 4th and operate daily till Labor Day, and September 11-13. Alpine slide, gold coaster, and scenic chair rides only will be available. All activities available for purchase on mountain at the base of Peak 8 or advance tickets online at Breckenridge.com . Grab and go food will be available at Ski Hill Grill and Sevens Restaurant. (Bike haul, and Epic discovery ropes course, zip lines, and climbing wall remain closed)

Tickets can be purchased on mountain
Advance reservations are available online at Breckenridge.com
Operates 9:30 - 4:00
Breckenridge Resort hosts both an Alpine Coaster and 3 Alpine Slides during the summer months. Cruise down the mountain and take in the alpine views of Breckenridge and the surrounding landscape!
Gold Runner Alpine Coaster
Experience the extraordinary views of Breckenridge while cruising 2,500 feet down the Gold Runner Alpine Coaster through a series of twists and turns and loops. The alpine coaster is a thrill for the whole family and allows riders to control their own speed throughout the ride.
Gold Runner Riding Requirements:
Riders must be 54" to ride alone. For ride alongs, passengers must be at least 38"-53" tall and weigh at least 45 lbs and drivers must be at least 16 years old. Adults can ride together as long as the driver is a head taller than the front passenger and the total weight is less than 350 lbs.
The Gold Runner Alpine Coaster is part of the Epic Discovery experience at Breckenridge Ski Resort.
Alpine Slide
Get ready for the biggest slide of your life! Choose between 3 different 2,600-foot long slides at the Peak 8 Base Camp of Epic Discovery Breckenridge. Ride alone or with a passenger and control your own speed as you cruise down the mountain on the alpine sled.
Riding Requirements:
35"+ Ride along with 16+ Driver
48"+ Ride alone
Hours of Operation
Epic Discovery 9:30am - 4:00pm
Free Gondola 9:00am - 4:00pm
---
Breckenridge Summer Activities
Summit County Summer Activities
Search Breckenridge Rentals