Silverthorne & Dillon, CO Winter Activities
Silverthorne and Dillon sit side-by-side on the Northeast side of Summit County and are home to many fun outdoor winter activities, including ice fishing, snowkiting, snowshoeing, tubing, sledding, and Nordic skiing.
The 300 days of sunshine paired with light and fluffy snow are a recipe for a good time. Learn about the fun things to do in Dillon and Silverthorne during the winter months below and book your Silverthorne or Dillon vacation rental today!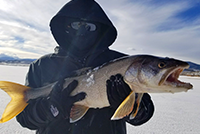 Ice Fishing Lake Dillon, CO
With over 5 square miles of surface area, it is hard to believe that Lake Dillon freezes at all, but after a few months of cold winter weather, the lake transforms into a sparkling sheet of thick ice. The large lake provides plenty of room for a plethora of winter activities, one of which is Dillon Reservoir ice fishing.

Ice fishing on Lake Dillon is fun for both anglers and newbies alike. Big Ed's Fishing Ventures offers full-day or half-day ice fishing trips near Breckenridge and Dillon. Their experienced guides will help get everything set up safely so you can enjoy some quality time out on the lake.
Silverthorne & Dillon Cross Country Skiing & Snowshoeing
While there is not a Silverthorne or Dillon Nordic center, the two towns offer miles upon miles of backcountry snowshoe and cross-country ski trails. If you consider yourself an adventure-lover, Silverthorne and Dillon cross country skiing and snowshoeing is for you.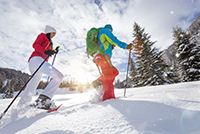 Nordic skiing and Snowshoeing near Dillon, Colorado takes visitors into some of the most scenic and secluded areas of the county, including up Buffalo Mountain and into the Gore Range. If you don't have your own gear, head to Wildernest Sports or Norski Sport Rental or for cross-country ski and snowshoe rentals near Dillon, CO.
The Old Dillon reservoir trail rewards snowshoe enthusiasts and Nordic skiers with beautiful panoramic views of Lake Dillon. If you are looking to get lost in the woods, the Tenderfoot Mountain trail is a 2.5-mile round trip trail that winds through the pines. Be sure to also check out the Frisco Nordic Center and Breckenridge Nordic Center for groomed cross-country skiing near Dillon, Colorado.
Dillon & Silverthorne Sledding
Bringing the kiddos with you on your Summit County vacation? There is some fantastic sledding in Dillon, CO! Our favorite Dillon sledding hill is probably the Dillon Town Park hill. In Silverthorne, we recommend checking out Rainbow Park. The best part? Both of these locations are absolutely free! High Country Tours also offers a fun snowmobile tour with snow tubing.
Colorado Snowkiting on Lake Dillon
Try out the relatively new sport snowkiting where the skier or snowboarder is propelled by a kite over snow, ice or water. Lake Dillon sits just a few miles outside of Breckenridge and is where people flock to go snowkiting. To get a lesson of your own, head down to Colorado Kite Force in Silverthorne where you can set up a lesson and snowkite rental and get cruising in no time!
Colorado Kite Force is the only IKO (International Kiteboarding Organization) Certified affiliate school in Colorado, which means they are fully certified and equipped to teach you how to kiteboard or kite ski. Colorado Kite Force's best deal is the full-day lesson, which includes the rentals and lessons and starts at $250.00 per person, but discounts are given for each additional person taking part in the lesson. Colorado Kite Force has kites available for purchase in addition to DVDs and other items in their shop. Reservations are required for lessons.
Contact Information:
400 Clayton Rd. Silverthorne, CO 80497 | (970) 485-3300