Breckenridge Climbing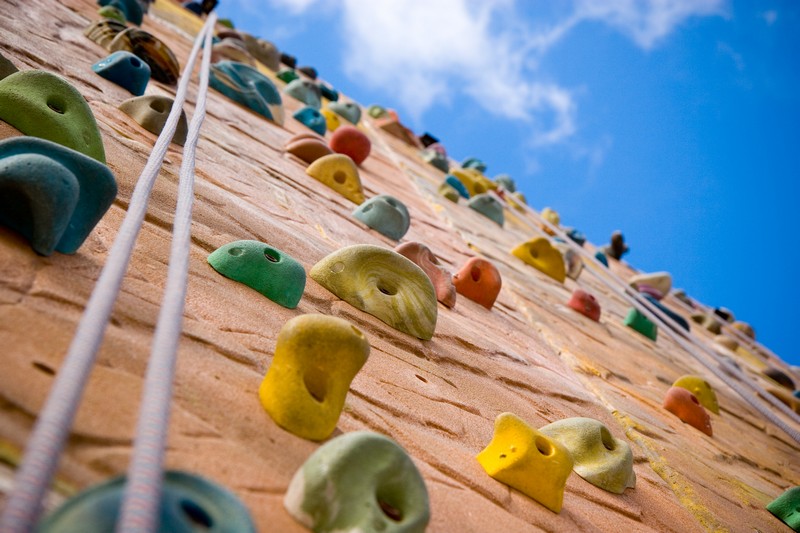 Rock climbing is a very popular activity in Colorado as the landscape provides tons of opportunity for exploring. Rock climbing requires focus, trust, endurance and creativity and can be a great activity to get the kids excited! Breckenridge offers a few controlled climbing facilities for learning on as well as guides for climbers interested in a little more adventure outside.
---
Indoor Rock Climbing
Breckenridge Recreation Center (Breck Rec)
The Breckenridge Rec Center has an indoor rock climbing wall with padded floors that is available for use for bouldering, practicing top roping and sport climbing. Anyone can boulder at the rec center and if you would like to learn to belay and top rope, the rec center has equipment available for rent as well as an instructor at different times throughout the day to teach technique and perform a belay test. As young as 3, kids take to climbing very quickly and the rec center is a great place to explore climbing foundations with little consequence.
www.breckenridgerecreation.com
880 Airport Road, Breckenridge, CO 80424 | 970-453-1734
Epic Discovery Climbing Wall
Breckenridge Ski Resort has an outdoor rock climbing wall designed for beginner and novice climbers. Safely explore multiple routes on a 35ft wall backed by the natural beauty of Breckenridge. Sturdy shoes recommended and climbers must be 45-240lbs.
---
Outdoor Rock Climbing Near Breckenridge
For those looking for outdoor rock climbing near Breckenridge, head over to Prospector Campground off of Swan Mountain Road for beginner climbs and bouldering. There are bolts and anchors for simple toprope setup as well as space for bouldering. Intermediate climbs can be found in Peru Creek in Montezuma near Keystone. In Frisco is Mt. Royal's Royal Flush which is very popular for experienced multi-pitch sport and trad climbers. It offers 1,500 feet of mixed routes and extraordinary views of Frisco. Royal Flush is NOT a route for beginners. There is a Mt. Royal hiking trail for those wanting to experience the views of Mount Royal without rock climbing. Other advanced climbs can be found all over Independence Pass between Leadville and Aspen. When climbing outdoors, it is highly recommended to be down by 2pm due to late afternoon storms that can suddenly pop up. For more information on climbing, head to Mountain Outfitters for tips as well as purchasing a Summit Climbing Guide for details on routes all over Summit County. The REI co-op in Dillon is another great resource for discussing routes and gear with their staff.
---
Climbing Gear Retail in Breckenridge
Mountain Outfitters
Mountain Outfitters is the only retail store in Breck that sells climbing gear. The store also has gear for camping, hiking and mountaineering including casual clothing and a large selection of footwear. The staff is highly knowledgeable and there to ensure the best and safest experience when heading out on the mountain.
www.mtnoutfitters.com/
112 South Ridge Street, Breckenridge, CO 80424 | 970-453-2201
Colorado Adventure Guides
Take your climbing to the next level with Colorado Adventure Guides. Their knowledgeable staff offers a wide variety of 1 day 8-hour climbing courses designed for every type of climber. Courses vary from Rock Climbing 101 for those who have never "touched rock" all the way up to Rock Self-Rescue courses for the experienced climber. Other guided adventures include hiking, biking, skiing and climbing.
www.coloradoadventureguides.com
100 South Ridge Street #203, Breckenridge, CO 80424 | 970-668-8900
Rocky Mountain Guides
Rocky Mountain Guides out of Breckenridge offers beginning, intermediate and advanced guided outings for climbers of all levels. They offer half and full day adventures catering to your group's needs. Beginners climb at Swan Mountain, Montezuma Rock and Blue Lakes and focus on proper footwork and technique, rope work, knots, belaying and rappelling. Intermediate climbers head out to Mount Royal, House Rock, Ten Mile Canyon and Blue Lakes to expand their limits and advance their techniques by building anchors and learn how to place protection as well as learning more knots and becoming a responsible partner. Alpine Rock Climbing is for experienced climbers wanting to test their limits on multi-pitch climbs that go anywhere from 400 feet to 1,500 feet that may go above 12,000 feet in elevation at the top. Climbing areas include Loveland Pass, Blue Lakes, Mount Royal and more!
www.rockymountainguides.com/
11 Grey Fox Lane, Dillon, CO 80435 | 970-409-9555
---
Breckenridge Summer Activities
Summit County Summer Activities
Search Breckenridge Rentals