Breckenridge Art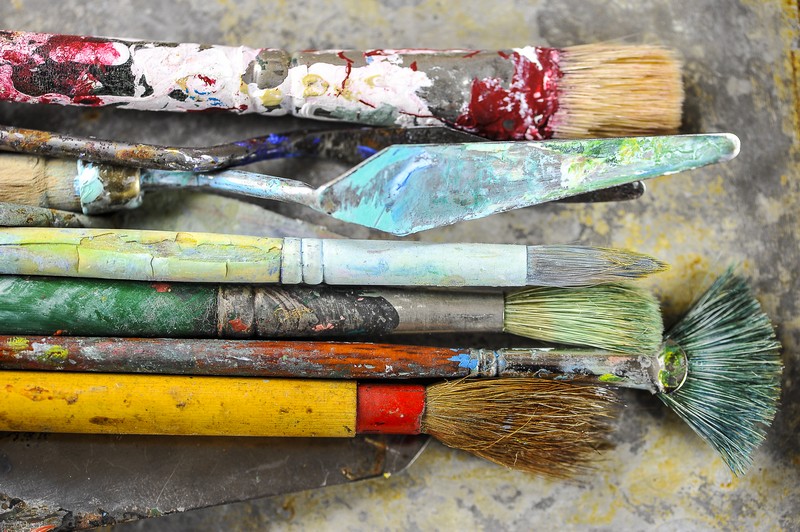 Downtown Breckenridge is a great destination for artists and art lovers alike! The town is filled with art studios, galleries, music venues, and many of the historic downtown buildings have been converted into studio spaces for local and visiting artists. Whether you're a family looking for a fun activity to share, a couple looking for a new idea for a date night, or a group wanting to explore it all in one day, Breckenridge Arts District has something for everyone.
BreckCreate - classes, workshops, festivals
BreckCreate is the local hub for all things creative in Breckenridge! Get your hands dirty and dig into workshops and classes such as ceramics, candle-making, woodshop, painting, clay hand building, writing, metalsmithing, glass blowing, essential oils and much more! BreckCreate offers after-school classes and activities for the kids as well as galleries, special events and a database of local artists. Check out their website for a complete calendar of events.
http://www.breckcreate.org/
Second Saturday:
Explore the Arts District on the second Saturday of each month from 10am-1pm. Start at the Old Masonic Hall for Exhibitions + Mimosas, then continue on to Quandary Antiques Cabin for Kids' Crafts. The Fuqua Livery Stable and Tin Shop are open to watch Local Artists-in-Residence work. Head over to the Ceramic Studio + Randall Barn for Co-op Artists. All ages are welcome and parents must attend the event with children. All participants over 21 will receive one free drink ticket. Free
Date Night:
An event that gathers singles and couples alike for a fun activity such as woodworking, painting and more!
WAVE: Light + Water + Sound:
Postponed until June 2021
Riverwalk Center, Breckenridge
Illuminated sculptures, projections,and digital art on the river. Installations, musical performances, screenings. Free
More Information
Breckenridge International Arts Festival:
June 12 - 14, 2020
Riverwalk Center and Breckenridge Arts District
Breckenridge Arts District
The Breckenridge Arts District represents an entire campus of renovated historic structures that is made up of art studios, galleries, performance spaces, public art, restaurants and more that populate historic downtown Breckenridge.
Buildings include:
Breckenridge Theatre
- 121 South Ridge Street | Film screenings, concerts, theatrical productions
Burro Barn
- 129 South Ridge Street | Public restrooms & storage
Ceramic Studio
- 125 South Ridge Street | Ceramics + one studio rental
Fuqua Livery Stable
- 110 East Washington | Painting, drawing, beading, mixed media workshops
Hot Shop
- 123 South Ridge Street | Metalsmithing, glasswork, encaustic painting
J.R. Hodges Tin Shop
- 117 East Washington Avenue | Live/work studio for visiting artists
Kiln Yard
- 117 East West Washington Avenue | Pit, wood, raku firing
Old Masonic Hall
- 136 South Main Street | Visual + Performing Arts classes, workshops, exhibition space
Quandary Antiques Cabin
- 133 South Ridge Street | Children's multimedia workshops
Randall Barn
- 114 East Washington Avenue | Printmaking and textiles
Ridge Street Arts Square
- 117 East Washington Avenue | Special Events
Riverwalk Center
- 150 West Adams Avenue | Musical performances, multimedia events
Robert Whyte House
- 127 South Ridge Street | Live/work studio for visiting artists
Speakeasy Movie Theatre
- 103 South Harris Street | Community events and movie screenings
More Information on Breckenridge Arts District
Ready Paint Fire! - Art Studio
Ready Paint Fire is an art studio that offers many different craft & drink activities for groups and the whole family! With two studio locations in Breckenridge and Frisco, mediums to paint on include pottery, canvas, mosaic and glass fusing. Keep an eye on their calendar for workshops and events such as glass fusing workshops, canvas painting parties, pottery painting parties and more!
Can't make an event? Head over for their daily Art & Wine Happy Hour from 6-9pm and create your own art any night of the week!
Ready Paint Fire!
www.readypaintfireco.com
323 North Main Street, Breckenridge, CO | 970-453-5765 | Open Daily 11AM - 9PM
Breckenridge Gallery
Breckenridge Gallery is Summit County's longest-running fine art gallery. Located on Main Street in Breckenridge, its focus is primarily on fine art from the Western US with special exhibits from the very best painters, sculptors, jewelers, photographers focusing on landscape, abstract, nature and wildlife.
www.breckenridgegallery.com
124 South Main Street, Breckenridge, CO | 970-453-2592 | 11AM - 7PM
---
Breckenridge Summer Activities
Summit County Summer Activities
Search Breckenridge Rentals